| | |
| --- | --- |
| | How it Works |
CHECKMAGIC

® is the easy to use software starting at $19.95 and up, that prints checks directly from QuickenTM or QuickBooksTM onto blank check paper saving you up to $70 per 1000 checks.

For many years, we have been providing custom check software solutions to hundreds of corporations. Now we have applied our expertise to create CHECKMAGIC software, so that Quicken and QuickBooks users can enjoy the same quality, flexibility and cost savings as our corporate clients.
The way you currently print checks with Quicken or QuickBooks requires you to purchase check stock pre-printed with your name and address, the bank information, the check number and the special MICR characters printed across the bottom of the check. Then you write the payee and amount in Quicken or QuickBooks and print that information onto the pre-printed stock.
CHECKMAGIC eliminates the need to purchase the pre-printed checks.
CHECKMAGIC prints all of the check information on inexpensive blank check safety paper, available from us at $24.95 per thousand. This means your name and address, the bank information, the check number and even the special MICR characters are created on the blank paper. And the best part is that all of this printing takes place as you print the checks from Quicken or QuickBooks.
This is truly one step printing, not like some programs that require you to print the check stock in a separate program and then print the individual check information using Quicken or QuickBooks.
With CHECKMAGIC, the check paper you put in your printer looks like this: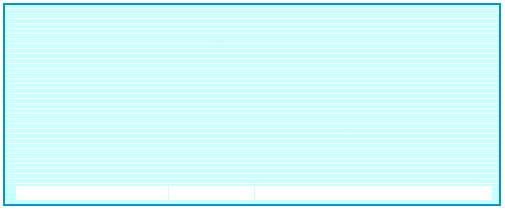 And when you send the print job to the printer the printed check looks like this: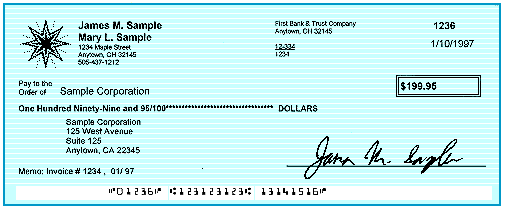 1000 checks complete with CHECKMAGIC software, costs less than Quicken's minimum order of 250 checks.


Click here to see how.
Do I Need a Special Printer?
CHECKMAGIC is compatible with standard laser and ink jet printers.
The key to successfully printing checks on blank paper is the ability to print the MICR (Magnetic Ink Character Recognition) characters on the bottom of the check. Up until recently the average person could not obtain a printer that was capable of printing the special MICR characters. However, two new developments have made it possible to use low-cost laser or ink jet printers to accomplish this:
Most banks in the United States have OCR (Optical Character Recognition) readers in addition to MICR readers so they don't even need the characters to be printed in magnetic ink. And of course, they all have manual backup systems that will process any checks that are not read automatically.

CHECKMAGIC has developed convenient and accurate alignment techniques that will work with almost any printer and without special alignment tools or gauges.
This is why many people are successfully using laser printers with standard toner and ink jet printers to print the MICR characters on their checks. All checks produced by CHECKMAGIC software are bankable and compatible with all banks in the USA.
If you desire we can provide you with MICR toner for your laser printer for about the same cost as regular toner. It can be used for all of your laser printing.
CHECKMAGIC is very easy to use.
Once you write your checks in Quicken or Quickbooks, it only requires a few mouse clicks to produce your custom checks.
Click here to see sample screens.
Click here to see sample screens from the CHECKMAGIC software.

Now with CHECKMAGIC YOU take control of ALL of the printed data on the face of your check. This means...
Never buy expensive pre-printed checks again.
True one step printing.
No more wasted checks when you move or change banks.
Solve check numbering problems.
Print logos and signatures on the checks.
Reprint lost or damaged checks instantly.
Print multiple accounts on the same blank stock.
Print blank checks to complete by hand.

[ How It Works ] [ Cost Comparison ] [ Products & Prices ] [FAQ] [ Order Now ]

2780 S. Jones Road, Suite 3555
Las Vegas, NV 89146

Phone: (800) 394-9367
Fax: (800) 394-9049




© Copyright CKMAGIC, 2022
All rights reserved
All brand and product names are trademarks, registered
trademarks or service marks of their respective owners